Decentralize exchange is much more flexible for it full control independence. The client can get full access and secure their fund with decentralize exchange. Now traders are like decentralize digital currency exchange more than centralize exchange. So, if you are looking for a safe and secure digital exchange than here are to ten best decentralized exchanges.
In terms of safety decentralize exchange is the best for trading, exchanging and funding digital currency. Cryptocurrency are started with a passion with decentralization. But now by force we are using centralize exchange because we have no other options. Now some of the dedicated exchange company working on the decentralize exchange.
So in popularity decentralize exchange are increased on the crypto sphere. Here I am going to find out which are the top ten best decentralize exchange.
Top Best Decentralized Exchanges
Ethermium is a trusted and popular cryptocurrency decentralize exchange. It is lunch in 2018 proudly. We are going to build an independent economy with will not require any third party is a trust or involve to exchange any goods. At this stage we are in centralize and vernalable to hack and block chain project that frequently done by forking. Decentralize exchange Ethermium is a ERC-20 token that a low independence and easy trades.
This exchange is like Etherdelta and have a line look interface. It is amongst top best decentralize exchange in the terms of volumes, security and professional trading interface. This exchange is trying to meet as modern cryptocurrency decentralize demand.
For the beginner it is an ideal exchange. It's trading order book is much cleaner that other exchange. Some of it analysis tool are amazing to start trading analytics. One if the other advantage is you can easily use Ethermium with your MetMask.
Currency Support: More than 1103 token are supported by Ethermium exchange.
Trading Volume: At time of writing last 24 our volume $1,45,400 and total 84,403,540 ETH.
Wallet Support: You can use your MetMask wallet.
Limitation: No need any KYC verification
Security: The security level is Top.
Total Currency: 1104 Tokens added

Blockchain Technology: ERC-20 token support
Trading Fees: Low Fees, No fees on deposit and withdrawal, and low trading fees: 0.00% Maker / 0.20% Taker.
Ethermium Exchange Beginner Guide
Decentralize digital exchange is growing its popularity in 2018. IDEX is one of them that is making a wave in the digital exchange platform. IDEX is an Ehereum base decentralize cryptocurrency exchange. This Dex use smart contract real time trade and high speed transaction process.
The team behind IDEX is to build one of the top advance digital exchange platforms. Already more than 1,50,000 user are joining one IDEX exchange. They are targeted to bring new user from worldwide to make most popular decentralize exchange. The exchange include a wide variety of crypto tokens on the Ethereum base platform.
A decentralize application and financial platform Auroras one of the project is IDEX. The passion of the Aurora team makes an open source, stable and advance financial protocol that allows to access any part of the world. It aim to build worldwide accepted digital banking cryptocurrency community.
Currency Support: More than 450 Token supported.
Trading Volume: At this writing time

$2,133,391

USD

. It is $10m worth of daily trading average.
Wallet Support: Metamask and Ledger wallets.
Limitation: KYC and AML require.
Security: The security level is Top.
Total Currency: 1104 Tokens added

Blockchain Technology: ERC-20 token support
Trading Fees: Maker fee of 0.1% and Each trade costs 140k gas. It's market taker fees 0.2%.
Order: Maker limit minimum$20 and taker limit $10 minimum withdrawal $1.
Country: Republic of Panama
CEO:  Alex Wearn
Main Trading pairs to trade: ETH or DAI
IDEX Exchange Beginner Guide
3. Waves Exchange
Here cryptocurrency trader can trades waves-based assets. The trader also trades fat tokens and digital tokes easily. To use and cryptocurrency trades you must need to download the Waves Wallet. There has no enough volatility and it is fully decentralized crypto exchange. It is one of the cheep fees and high speed transaction exchange.
Waves allow you to withdrawal fat money in your own bank account. If I talk about this exchange interface that I should say it is pretty much the nicest interface. Day by day Waves decentralize exchange becoming mainstream. The main benefit is you can full control your crypto fund.
It is a popular decentralize exchange. I am recommended to start trading on this exchange as a newbie. I am not giving you recommendation to put much money as a starter. The waves platform support 6000 transaction per second.
Currency Support: Thousand of token are released from waves platform.
Trading Volume: More than

$6,310,000 average 24h trade volume

.
Wallet Support: Euros ans US Dollars.
Limitation: KYC  require.
Security: The exchange is well secure.
Trading Fees: $0.01 (0.003 WAVES) per order.
Country:

South Africa

CEO: 

Forbes, Sasha Ivanov
Waves Exchange Beginner Guide
4. Deex Exchange
A Deex is a convenient decentralize digital exchange for all over the world. Any part of the world, people can trade individually with fiat currency for crypto coin. Many other cryptocurrency like Bitcoin, Ethereum and alt-coin are exchanged here. A trader can trade margin, limit, stop-loss and lending trade easily.
Deex promise to provide secure, fair, decentralize and free from politics exchange platform for crypto trader. Where more than $500 million fund stolen from centralize exchanges. People are welcome decentralize crypto exchanges because they get full control of there fund.
Deex exchange core ecosystem is BitShares 2.0 blockchain technology. It is high speed transaction process and there has no single hacking record. BitShare 2.0 is one of the top level decentralize crypto blockchain platforms. A significant advantage is it can process 100,000 transactions per second. It is one of the real able and stable exchange platform.
Currency Support: Now more than 10 cryptocurrency support.
Trading Volume: 1 million

Deex trade volume

.
Wallet Support: Main currency Etherium and Bitcoin fat currency are coming soon.
Limitation: No KYC  require.
Security: Security layer is excellent.
Trading Fees: No deposit and withdrawal fees.
Country: This company origin is

Russia

CEO:  Vladislav Sapozhnikov, CEO and co-founder of DEEX.
5. BarterDex Exchange
BarterDex exchange is a project of Komodo and it is a secure auto swap crypto exchange. It has more than 106,000 register swap members. With this auto swap trader can cross trading with multiple blockchain network with their crypto wallet. The Komodo project have their public block chain ledger. Most of the crypto enthusiast is known Komodo project and there has own token name KMD.
One of the top advantage is in its atomic swap system with various block chain networks. This technology uses Electrum servers. That's why it's no need to download any blockchain on the trading platform.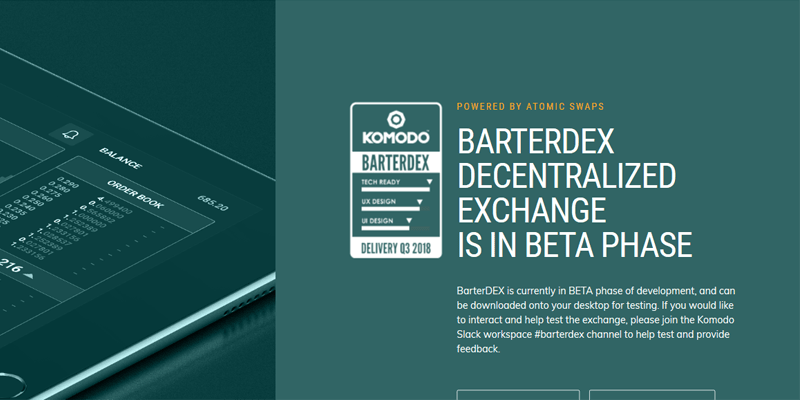 Electrum is that type of service where it's verified server transaction with only particulate coin on the network without customer secret key. It is reliable and stable and support more than hundred coins. Read the BarterDex exchange beginner's guide to know everything.
Currency Support: It is support 100 coins or tokens.
Trading Volume: Now it's 24 hours volumes is very low.
Limitation: No KYC  require.
Security: Security layer is good.
Trading Fees: The atomic average fees is

0.15%

.
BarterDex Exchange Beginner Guide
6. Stellar Exchange
Stellar Lumens is the first zero fee decentralize crypto exchange on the crypto sphere. It is first time zero fees digital currency exchange with fiat currency. This was started with own decentralize exchanges and own block chain called stellerX. One of the first decentralize application that come with modern featured.
The team behind stellar is experience with deep user friendly and wide range of crypto, fiat tethers, commodities, bonds, and more. You can compare with Etherium blckchain and IDEX and EtherDelta. No fees are required to add assets on the exchange. The network takes a flat fee to protect anti spam. However, this network no need "work" or "stake" for its unique mechanism.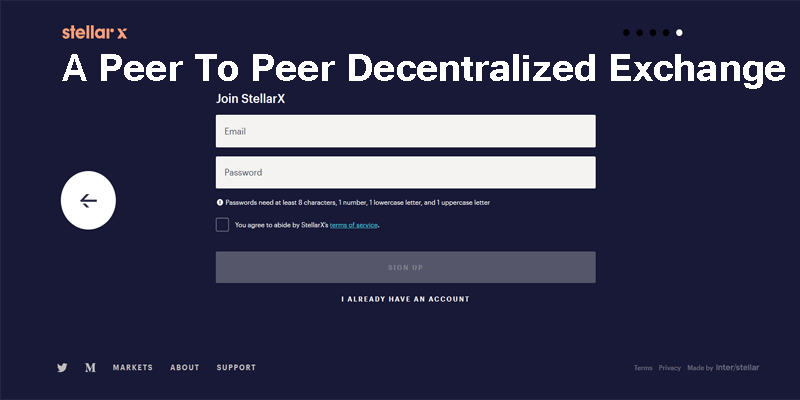 It use broadly and getting a bright partnership through worldwide. Steller has a great partnership with IBM. Behind the technology Steller use consensus algorithm (SCP) .
Currency Support: Stellar support more than 100 pairs.
Trading Volume: Last 24 hours volume $753,669 USD .
Wallet Support: Cryptocurrency and fat currency support.
Security: Security layer is excellent.
Trading Fees: No deposit and withdrawal fees.
Country: Global and service area 43 country's.
CEO: 

Jed McCaleb is co-founder and he is a programmer

.
Partner: Worldwide more than

3,000 network partners
Sellar Exchange Beginner Guide
7. OpenLedger Exchange
8. CryptoBridge Exchange
9. Bisq Exchange
10. DEX Exchange
11. OasisDex Exchange
12. Radar Exchange