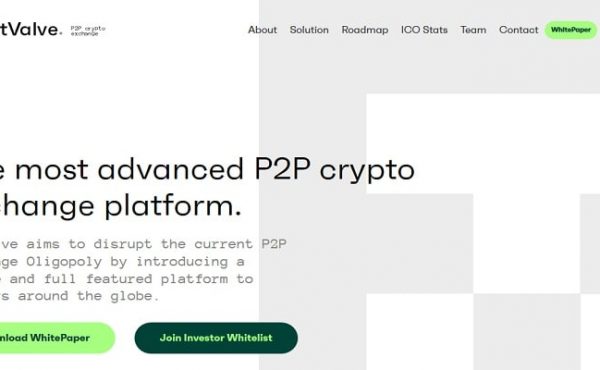 BitValve – P2P Cryptocurrency Exchange (BTV) BitValve aim is […]
ICO Start Date:
January 2, 2019
Token Sale Ended:
January 23, 2019
ICO Details
ICO Details
View Details such as General, Token Supply & More
Website
Whitepaper
Participation with:
Bitcoin, Ethereum, Bitcoin Cash, Monero
Category:
Can't participate:
China, United States
Know Your Customer (KYC):
Yes
About:
BitValve – P2P Cryptocurrency Exchange (BTV)
BitValve aim is to develop an advance level peer to peer crypto exchange. An advance level functionality for the cryptocurrency exchange within the markets. However, user are able to trade coins, buy, sell and exchange with cryptocurrecny. There has multi payment gateway. For instant payment will be by PayPal, Western Union etc. BitValve ICO token sell for the first time.
BitValve ICO token Sell
Easy way to checking your account and from any part of the world you can trade. To join the exchange there will be no restriction by geographically. The beautiful ICO token project is writing a trustworthy agreement. The member who joins this exchange, they can pay 500, lees fees. Moreover, they can trade crypto to crypto with Advanced Trade cryptography.
Finally, you might visit there website to see details initial coin offering here. It is a good ICO for crypto ICO investor. However, visit there website to see all offers. All about find there.
Fundraising Goal:
$4.629.642
Sold on Pre-Sale:
$2.310.000
Total Supply:
23.148.214 BTV
Tokens sold to the public 49.90%
Tokens in circulation after ICO 0.00%