Find out which digital wallet is safe to store your Bitcoin and other cryptocurrencies. Find out our top cryptocurrency wallets.
Before finding any digital wallet to store your digital currencies like- Bitcoin, alt coins, and other cryptocurrencies, I would like to suggest you know about the digital wallet or Cryptocurrency wallet first.
What is Cryptocurrency Wallet?
Cryptocurrency wallet is a digital secure wallet which stores public and private keys of bitcoin, altcoin and other cryptocurrencies to send and receive. Cryptocurrency itself is not a wallet, but different official wallet store them in the wallet. At the same time, many currencies refer to the third-party wallet. It is maintained in a publicly available ledger and to use cryptocurrency you need to use the wallet.
Cryptocurrency wallets maintain high security both in hardware and software. So that a hacker can not get the chance to access it.
Hot Wallet and Cold Wallet
If you want to invest much you need to use a cold wallet undoubtedly. Unlike hot wallet, cold wallet store currencies offline. There are huge differences between hot wallet and cold wallet. Hot wallet store currencies online, while cold wallet stores them offline.
Hot wallets are those used to exchange online on behalf of you. The keys are stored by the wallet providers. If you are using the hot wallet, it means you are trusted with the hot wallet provider. Therefore, It is better to not store too much in the hot wallet
Cold wallets are those are not connected with the internet or can be disconnected from internet any time. It could be an application or software, which can be installed on your PC or Mobile Phone. Or it could be software, where you can store your cryptocurrency and you can easily bear it with you. We are recommending you to store much in cold wallet. Cold wallets are always regarded as the top cryptocurrency wallet.
How did Cryptocurrency wallet work?
Like the real world cryptocurrency wallet also works as the physical wallet. But the difference is here, blockchain contains transactional records of private and public keys and which private or public keys have control over the fund.
Like the bank account, no others can know your wallet no or address to transfer balance or salary in your wallet. It is no harm to know others your wallet no. If somebody wants to transfer bitcoin into your account, give them your wallet address. All coin will be stored in your account.
Top Cryptocurrency Wallets
There are many cryptocurrency wallets. Cryptocurrencies are stored in hardware wallet, some are in software wallet, and some are in the paper wallet and others. Here, we have suggested some top cryptocurrency wallets in accordance with its cost, security, mobility, user-friendliness, and others. Because, though someone may know about them as they are digital wallets, it's regular to thinking them safe at first glance. But, there is a lot to learn about them: what is it, how they work and after all how to keep them safe. So, here we suggested some safest user-friendly top cryptocurrency wallets.
Coinbase
Coinbase wallet is the overall best wallet ever. When starting with Bitcoin, people always think about Coinbase before. It is user-friendly for the beginners to purchase Bitcoin (BTC) and Etherum (ETH) purchase with fiat currencies. By Coinbase wallet it is possible to exchange only 3 digital coins- Bitcoin (BTC), Etherum (ETH) and Litecoin (LTC). With the version of GDAX, anyone can transfer coin instantly. At the same time, you can purchase quickly with fiat.
As Coinbase is the top cryptocurrency wallet its security system is a very high and highly secured system made it familiar to its users. To set up your security you can set 2 step security system with Google authenticator. It is to be noted that, all transfer in Coinbase are free.
After all, there are some Coinbase alternatives which will help you to get hands over some Bitcoins.
CEX
Kraken
Gemini
Local Bitcoins
Bitcoin ATMs
Mycelium Local Trader
To know details about Coinbase, click here. And Visit the Coinbase Official site.
Ledger Nano S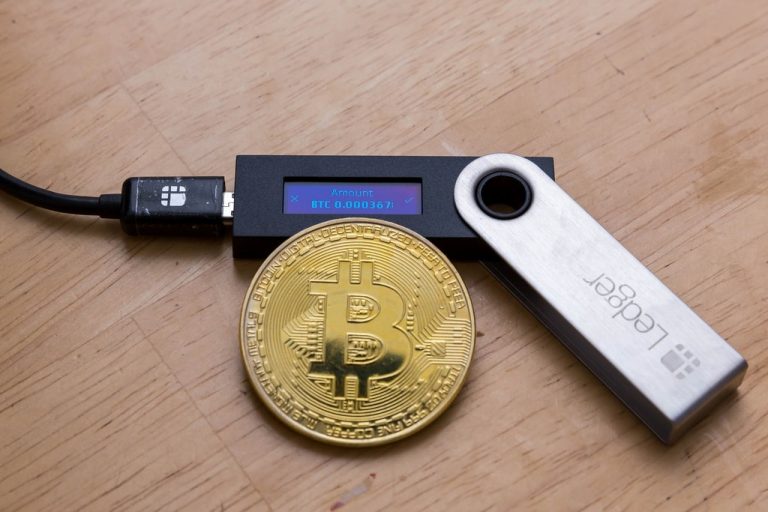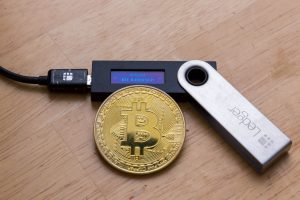 Ledger Nano S is a most secure hardware top cryptocurrency wallet. Some most favorable characteristics of Ledger Nano S are- it is lower in price than any other competitor wallets, easy to carry and portable secure wallet.  Moreover, you can store more than 30 cryptocurrencies in this wallet carrying with you. Besides, if you lost your Ledger Nano S, you can recover it very easily with other any ledger device.
Key Features:
State-of-the-art security
Multicurrency
Simplicity
Backup and restore
An easy-to-use interface hiding cutting edge security
Compatibility:
Operating Systems
Ledger apps
Software wallets
To know more about Ledger Nano S click here. Visit the Ledger Nano S official site.
Jaxx
Jaxx is a relatively new cryptocurrency wallet. The designer of this wallet has designed the wallet giving much attention to the wallet users. Though later it has some bad reviews, it is only a top cryptocurrency wallet ever because of its user-friendliness. Especially, Jaxx has brought about a great solution for the Android users to store cryptocurrency. It should be noted that Jaxx supports more than 30 cryptocurrencies. In addition to this, Jaxx can make transactions to your currencies from different devices. This is the main reason, Jaxx is regarded as one of the top cryptocurrency wallets indeed. Moreover, it is compatible with mobile iOS and tablet, Windows, Apple and Linux desktop, Google and Firefox extensions.
Key Features:
Personal control: Jaxx would never know about your fund
User-Friendly
Compatible with all devices
Exclusive Design
Compatibility:
Android and iOS mobile and tablet
Windows, Apple and Linux desktop
Google Chrome and Firefox extensions
To know more about Jaxx click here. Visit the Jaxx Official Site.
Exodus
It is just to say WOW if you want to express your expression for the Exodus as the top cryptocurrency wallet. All the features of Exodus are so great. Which includes- reporting system, graphics features, colorful mode and easy to use. Moreover, it doesn't need to talk about its security. It is an offline stored system, which means all your currencies will be stored into your own computer. Not in the cloud or internet. Because, if you left your account online, it creates a chance for the hackers to hack. Though they can not get access to it. But, it is more secure to store in offline.
Key Features:
One Click Exchange
Multi-Currencies
Complete Security
100% free
Great Design
Not Open Source
Compatibility:
Windows (64-bit), macOS and Linux.
First desktop wallet with full Shape-shift functionality
To know more about Exodus click here. Visit the Exodus Official Site.
Electrum
Electrum is one of the hardware wallet systems. It is compatible with all operating system. But, the top foremost reason for being a top cryptocurrency wallet is being compatible with other best cryptocurrency wallet hardware. Such as- Nano S, TREZOR, KeepKey. In addition to this, you can store the only Bitcoin on this hardware. And it is said that 10% of the Bitcoins are being transacted by Electrum undoubtedly. Electrum is one of the best thin wallets. Instead of downloading and getting the full access to the blockchain system, it connects the server and verifies the balance of Bitcoin securely.
Key Features:
Lightweight
Easy to set up
Recovering Bitcoin using wallet seed
Relies on the server to verify the transaction
Compatibility:
Windows, Mac, and Linux
Android wallet which was launched in 2016
Compatible with major Bitcoin wallet
To know more about Electrum click here. Additionally, Visit the Electrum Official Site.
Trezor
It is regarded as one of the top cryptocurrency wallets for its security. It is a Czech Republic-based company, and it is regarded as the world's first hardware top cryptocurrency wallets. If you want to stay safe from hackers or malware, it is best to use Trezor. In short, it is a hardware wallet to store your cryptocurrency keys, which can be connected to your computer or mobile phone via USB and have an OLED screen.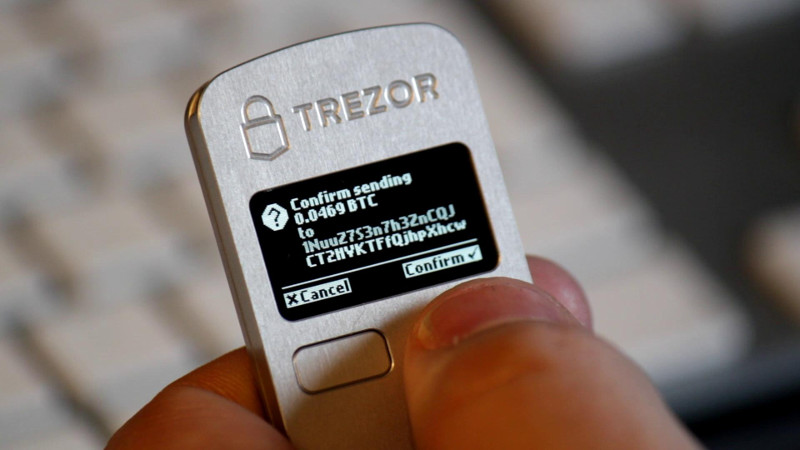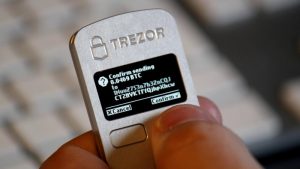 The initial setup system is quite different from the Ledger Nano S.
When connecting Trezor with your PC you need to get access after entering a nine digit pin code, which can be generated by your PC. Moreover, to get access over it, you need to go through multiple layers of security.
Key Features:
It is protected by Pin code you choose
24 words recovery seeds when Trezor is lost or stolen
It is a single purpose wallet- Bitcoin only
Limited attack of malware or hackers
Compatibility:
Windows, Mac, and Linux
Android phone
To know more about Trezor click here. Additionally, Visit the Trezor Official Site also.
The Best way to Store Cryptocurrency
At last, I want to suggest to you if you want to trade with cryptocurrency, you must have to store it. Without store, it, you can easily lose them in a while. Especially, if you want to make any transaction without storing it, it is the easiest way for the hacker to steal your cryptocurrencies.
So, luckily there are many cryptocurrency wallets available both online and offline, hardware and software. Among them, you have to choose the top cryptocurrency wallets. Not all the wallets are the same and at the same time not all the wallets will provide you with the same facilities. Make your own top cryptocurrency wallets. Subsequently, we ensure your top cryptocurrency wallets are enough secured, protected and safe to use.
Finally, hoping that this article on the top cryptocurrency wallet, including offline and online, hardware and software will help you to choose the top cryptocurrency wallets.
Please let us know which cryptocurrency wallet you are using and which wallet you are claiming as the top cryptocurrency wallets.