EXMO is an online popular exchange all around the world. The world most popular Cryptocurrency are exchanged in this trusted crypto exchange. Here Crypto user can buy and sell BTC, ETH, XPR, LTC etc. Buy Bitcoin With Skrill At Exmo
On this online exchange support also Six fiat currency such as USD, EUR, RUB, PLN, UAH, TRY. People can buy multiple digital currency with fiat money, and they also can sell Cryptocurrency for fiat money. Here I am explaining to buy Bitcoin and ALT-coin with Skrill payment at Exmo.
Exmo providing service since 2013. This exchange also accepts PayPal to buy Bitcoin. Crypto market is not well regulated around the world. So to buy Bitcoin from different places with random payment method is pretty difficult. This is one of the biggest platform who monthly exchange $1.5bn. Buy Bitcoin With Skrill At Exmo
So at this post, I am explaining a step-by-step guide to buy Bitcoin with Skrill at Exmo.
Guide To Buy Bitcoin With Skrill At Exmo
Skrill Account Step – 1
At first, you need to have a skrill account. Moreover, you need to have enough fund in your account. If you have balances on your Skrill account, then you are ready to buy Bitcoin through Exmo cryptocurrency exchange.
Registration Exmo Step – 2
To get an account on Exmo go to this link and create an account. → Registration Exmo
Fill up your login identity with and → username, → email, → strong password. After putting all the form simply click google human → verification tick option. In the meanwhile, in your email got a user → verification link. Simply go through the link to complete the email verification process.
Exmo KYC verification Step – 3
In order to increase transaction limit and upgrade your account you to complete your identity verification. So, to start exchange on this platform simply complete this KYC (Know Your Customer) process.
In the complete verification process, provide your (identity card) → ID and address proof paper to the Exmo authorities. A part of this process, you also need to send a → selfie holding ID card. Be sure about your documents file JPG and PNG images and 500 KB.
Note: Don't put any '#' character in the address filed because it is prohibited by the Exmo automated system. Buy Bitcoin With Skrill At Exmo
Funding To Exmo Step – 4
As you know this big exchange platform accept multiple payment option. To fund with your desire payment option go to → top menu bar and click on → Finance menu.
In this section you have seen many functions like, deposit, withdrawal, setting, currency and balance. Simply click on the → deposit option. On the payment method currency, choose → USD option. Now click on the → Skrill option.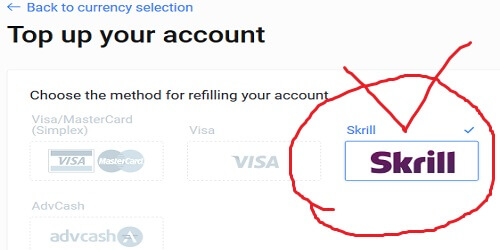 Several option to buy Bitcoin with Skrill, Neteller, Adcash, VISA MasterCard at Exmo. In similar way you can withdrawal your Exmo fund to your Skrill and different wallet.
Now you can buy Bitcoin and other cryptocurrency that is supported. After order and pay you can send BTC directly to your expected account wallets address. That's it!!
Buy And Sell BTC With Exmo
Buy and sell Cryptocurrency in Exmo is an easy and instant experiment. A number of satisfied clients are on the platform. The client is trading BTC/USD, BTC/EUR, ETH/TRY, ETH/RUB since 2019. Limit order trading is one of the featured. Moreover, 133 currency pairs are available to exchange.
The Fresh and clean trading interface gives you the opportunity to see the candlestick chart. Your analysis, currency rate and volume in the last 24 hours. There has a trade history in the bottom of the interface. Moreover, here you can see order history details.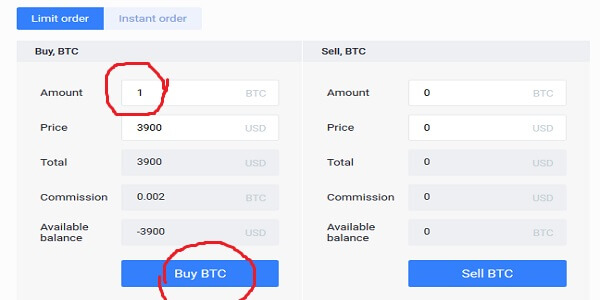 Exmo is a great place for cryptocurrency trading platform.
Exmo fees
Deposit and withdrawal fees are varied by currency. So, different currency withdrawal fees are different. On the other hand deposits, fees are different. For example, 0,2% is charged by Exmo. Buy Bitcoin With Skrill At Exmo
Limited
To increase your Bitcoin buy with Skrill at Exmo you need account verification. You can exchange up to 1,000BTC and as little as 0,001 BTC. Your KYC verification process increase your Bitcoin exchange limit.
EXMO Official Links
Buy Bitcoin With Skrill At Exmo

Conclusion

Cryptocurrency market is so volatile and so competitive. Exmo give the opportunity to buy and sell, trade cryptocurrency, and exchange in multiple currency. However, you can convert crypto for your fiat money. A lot of people are satisfied with this amazing exchange tool and high reliability.