I will be here to discuss and give you clear information about BitMEX Exchange Guide and step-by-step guide. It will lead you to trade without any hesitation. But, before the trade on the exchange, you must have to know the following information. Bitmex gets in the position on the Top Bitcoin Exchanges list for different advantages. However, to make a profit from cryptocurrency you need to learn a cryptocurrency trading guide.
What is BitMEX Exchange?
BitMEX is a P2P crypto-products trading platform. It is an international and a margin trading exchange. HDR Global Trading Ltd. Launch it in 2014. The persons who launch BitMEX Exchange are Arthur Hayes, Samuel Reed, and Ben Delo.
Here the margin trading exchange means coins placed on margin users will trade leveraged positions. Moreover, through their bespoke futures contracts known as Smart Contracts, BitMEX offers to their traders to trade on the future prices of cryptocurrency.
BitMEX Exchange – Step-by-Step Guide for the beginners
BitMEX Exchange provides a profitable trading opportunity. People say it is risky. Because you don't know about your activity on this platform. But, it helps you to trade the best way and profit from declining prices. Therefore, if you can use it correctly, then it can reduce risks.
So, here we described BitMEX Exchange – a step-by-step guide for you:
Step 1. Register for a BitMEX account
For the first step, into BitMEX website registration. Register your account by providing your email address and password. You can find it on the right side of the screen.
Subsequently, you will receive an email with the link to verify your email address. After that, make sure to increase your account's security level by enabling 2-factor authentication.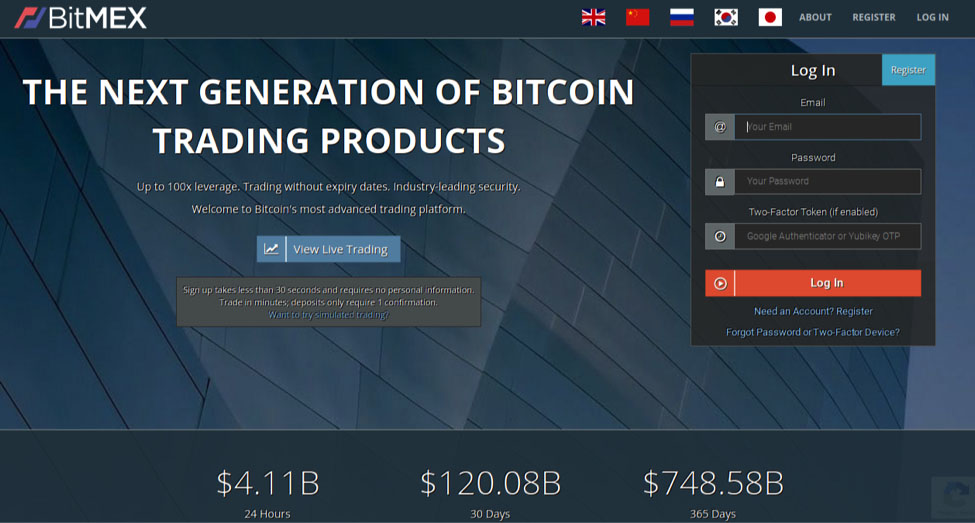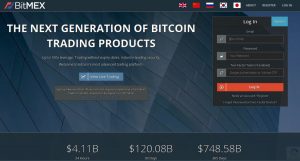 This is the first step of BitMEX Exchange – a step-by-step guide for beginners.
Step 2. Deposit funds into your account
At the top of the screen, you will see the "Account" tab. Click here to set your wallet. Now, to deposit click on the green "Deposit" button. After that step, now scan your QR code or copy your wallet address.
Now you can use your address to deposit Bitcoin in your BitMEX account.
BitMEX Exchange Guide And BitMEX Main Screen
Before starting the trade, I will suggest you have a quick look over the BitMEX main screen to have a clear idea about it. Here we go:
Firstly, on the right side, you will see the last transactions made. In the middle, you will see the graph. And on the left pane, you can open your positions.
Quantity = position size in US dollars
Limit Price = the price you set to open the position
Cost = the total price of the position.
Order Value = the total value of the position
Available Balance = your remaining balance in Bitcoin
If this is the first time for you, then I will highly recommend you to set your leverage on 1, with no leverage at all.
For example, if you have set the leverage on 5, then be sure that your cost of the position will be reduced by the same ratio, which means divided by 5. Because leverage means position cost divides by the same ratio. Therefore, your fund will reduce five times.
I only suggest you remember that the higher leverage is, the more you have to borrow from BitMEX. As a result, fees will increase.
Step 3. Navigate to the trading screen
Now, here you go to trade. Find the "Trade" button at the top of the screen. Then, you will be taken to the trading screen. On this platform, you can buy and sell the crypto by clicking on their tab. The following crypto is available here:
Step 4. Place Your Order
Fourthly, in this step place an order to enter a position. You have two different choices, "BUY / LONG" or "SELL / SHORT".
Moreover, you have three options in placing the order: Limit, Market, and Stop Market.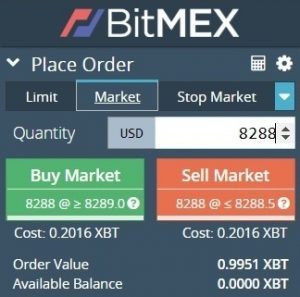 Now choose the amount you want to pay for a Limit Order. If you want to place a Market Order you have to pay a higher fee (0.075%) and have to pay any price. If you see that market is pumping fast, then you can see that a limit order not gets filled and end up costing more. BitMEX Exchange Guide
Step 5. Set your leverage
Here you are going to set your position. To set so, you have to set your desired level of leverage slider below the order box.
As I have described in Step 4 that the more you set your leverage, the higher the fee you have to pay. But, remember that, while market orders have a 0.075% fee, limit orders have 0025% fees.
It is one of the most important parts while you trading. Therefore, BitMEX will say you to be careful when adjusting leverage. BitMEX Exchange Guide
Step 6. Check details of your transaction
I am here repeating the steps that I have described in BitMEX Main Screen. Kindly, take review the full details of your transaction.
"Quantity" here shows the value of your position. But, as you are trading with leverage, your risk of invested money is less than this.
The "Cost" field here shows you the details of the maximum amount of loss on your position if the market goes against your investment. BitMEX Exchange Guide
"Order Value" shows in Bitcoin, which is indicating in XBT. That means the value of your position in Bitcoin or XBT.
Step 7. You are almost here
Now, it will give you fun if you really have a good analytical IQ. You will understand after critical research that when the market will fall and when it will rise.
So, if you think that market will rise, click on the "Buy Market" button. On the other hand, if you think that the market will fall, click "Sell Market".
To confirm your order an Order Confirmation box will appear. It contains some information. For example- Order Value, Level of leverage, cost, and estimated liquidation price.
After reviewing all details carefully, now click on "Buy" or "Sell". And it will confirm your order. This is the last step of BitMEX Exchange – a step-by-step guide for beginners.
So guys, here you go. What are you waiting for? Sign up just right now from the link below to starting trade in the BitMEX platform using Bitcoin and other Cryptocurrencies. Follow our BitMEX Exchange – step-by-step guide tutorial. It is not a tough matter for you guys. You are so smart, that is why you are trading on these platforms.
BitMEX Exchange – Register Here
BitMEX Exchange- Trade here with BitMEX Application
So, in these circumstances, our responsibility is only to set you in the right platform, provide you accurate information and knowledge. BitMEX Exchange Guide
Note: Remember that, Bitmex has not launched Android or iOS apps yet. If you find any in the play store, then be aware. They can steal your credits through those apps. BitMEX Exchange Guide