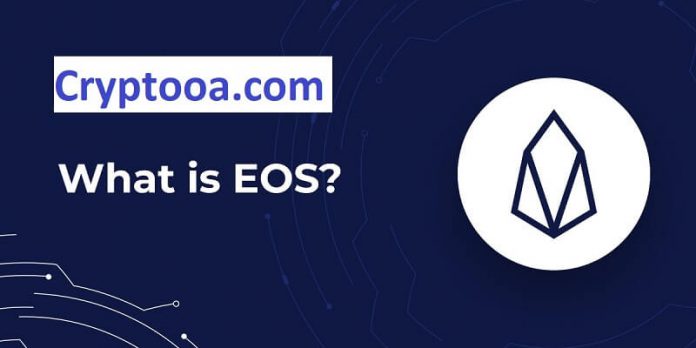 EOS Cryptocurrency Explained! For Beginners
Cryptocurrency these days are getting out of hand. Massive popular currency over the internet. There are so many new cryptocurrencies and still way more to come. In 2008 there was bitcoin, in fact, it was the king of cryptocurrencies for a while. But not for long when new cryptocurrencies started popping up. Miners from all around the world started investing and mining cryptocurrencies and till now there are more than two thousand types of cryptocurrencies in the crypto market. Here EOS Cryptocurrency Explained! For the Beginners.
Bitcoin was surely the top of all cryptocurrencies for a while, and it is still the most valuable than any other digital currency. But later when other currencies joined the game, the total game changed. EOS Cryptocurrency Explained
Some of those new cryptocurrencies surely going to have a better future. Now it is easier to rely on those small currencies because when the price drops, the gap won't be so huge. So you will be able to bear the loss and won't get a heart attack.
All this means, I'm going to tell you people about a cryptocurrency which will have a bright future and fewer ups and downs. So my fellow tech guys, if you are a learner about cryptocurrency and thinking about earning some cryptocurrency in the future this five-minute guide is just for you. Here is a cryptocurrency trading guide.
So today I'm going to talk about the so-called celebrity of the crypto market and its EOS. Yes, EOS is right now one of the best cryptocurrency out there. I'm going to explain every simple detail about why it is one of the best
What is EOS?
First, there is no official full form for EOS. It is a blockchain platform aimed at the development of DApps (decentralized apps). So it kind of easy to develop DApp with EOS services and functionalities. EOS is like a mixture of Bitcoin and Ethereum. It got its own security like bitcoin and the best computing power like Ethereum.
The best thing about EOS is its language. EOS got the smart contracts system. So it accepts smart contracts written in common programming language. So that means, people who know about programming language will be able to write their smart contracts in any programming language and will be able to work on the EOS network.
DApps Explained
DApps means decentralized application. DApp have no main authority, and it depends on algorithmic set rules without any administrator's interference. DApp's code is open source. DApp's provide the best kind of guard against anyone trying to alter or steal money. Because blockchain stores information in a way which cannot be changed unless all of its hosts agrees about the new change.
It is getting more popular as software developers become increasingly interested in DApps. Once everyone realizes its full potential it will continue to grow by a large scale.
Block.one and EOS
A small company named Block.One with 35 people with experience in finance cryptocurrency and blockchain technology. The CEO Brendan Blumer is the founder of Block.one. EOS was published in 2017 by Block.one. Later in June 2018, it was released as an open source software.
Almost a billion tokens ware sold on the Ethereum platform by Block.one just to make sure that the tokens ware spread widely at the launch. Some EOS main noticeable techs are zero transnational charges, DPoS consensus, 1,000,000 TPS, ability to alter codes, any many others.
It's also different and faster than many other popular blockchains. Developers made up to 1 million transactions per second, which is pretty much amazing compared to other currencies.
What are ERC-20 and EOS token?
ERC-20 token was designed for Ethereum platform. It is more like an Ethereum coin. Its blockchain processes their transactions, and its virtual machine operates their smart contracts. EOS's tokens are based on ERC-20 tokens. EOS's tokens are the currency of EOS network. EOS Cryptocurrency Explained
Can You Mine EOS?
The number of tokens that got released which is one billion you cannot mine them. But we know that EOS is based on Ethereum, so you can actually mine Ethereum and convert them to EOS later. EOS is not a mining system.
You always going to need Ethereum if you are looking for mining. You're going to need some best rigs, your mining depends on how many powerful rigs you got. With a single computer and best rigs, you are not going to get that many blocks.
Surely miners use more than one system and there is a large part depending on your electricity bills. So before you spend any huge cash on mining, do some research on how many systems are actually going to give you some profit.
Wallet for EOS
There are many crypto wallet support this token. It can be created in an EOS account with ZEOS. But before create an account do your own research to avoid scam. Some EOS wallet are below.
#1 Freewallet
More than 80% of user are not aware of their wallet private keys backup. Some of them are forgetting to keep safe the key-phrase. At this circumstance Freewallet is created. It is easy to freeze an account and access from other device at letter. Freewallet allow to create a memo. One thing is about that Freewaallet is a custodian wallet.
Click here to download Free Wallet
Like any other cryptocurrency wallet, EOS wallet is also the same. But before you make a wallet make sure to double-check if it supports EOS coins. Make sure that site is well reputed because you're going to need a good security level when you are storing some money online.
Look for a site who gives you control of your private keys, two-factor verification, advanced encryption. Make sure the site updates its features more often and make new improvements. EOS Cryptocurrency Explained
Check if the site got an experienced support team because good customer support matters. Last but not least check the reviews, before you use any site always check the reviews of other users.
EOS Pricing Details
EOS's launch price was $1, and it reached $18 maximum and still managing to stay between $2 to $4, which is pretty much a good balancing.
Mainly it is easy for the company to run so many decentralized apps and this is going to be a huge opportunity for the company to create several types of applications. With this type of platform, there is a huge chance that EOS will have s bright future.
There will be a time when companies will start to use decentralized apps, And then the value of EOS will increase significantly. EOS Cryptocurrency Explained
EOS Cryptocurrency Explained

/ Future?

Since so many companies and enterprises started using cryptocurrencies, and they are showing pretty much good interest in DApps already accompanying by the developers. With all those reasons in mind, it is a good idea to invest some good amount in EOS.

Keep in mind, It is obviously an investment for FUTURE and you better have some patience.  You can also check Top Cryptocurrency List.