Now it is important to save your cryptocurrency with the right wallet. It comes with blase many companies and organizations provide services with different digital currency storage options. There are two products for safe digital hardware wallets are stand out. The two popular products are Trezor and Ledger. We are focusing here on both wallet pros and cons to choose the best model. Trezor Hardware Wallet is a popular device that sties with crypto.
We choose the Trezor model and we are going to compare it. In our Cryptooa review, we are explaining about Trezer Model T. A few days ago Trezer T Model was available to pre-order. This new device is getting popular among crypto enthusiasts who want to save their money. Already this product was available in the crypto market. I bought it and going to explain its benefits.
In the cryptocurrency world, there have different hardware wallets. Some of the hardware wallets are below.
Ledger Nano S
Trezor One Model
 Model Trezor T

Review Trezor T Model
Trezor T hardware device wallet is a new addition and touch screen where you can store your digital currency offline. Moreover, as other digital currency wallets are connected online, Trezor keeps your money safe and secure from hackers. Because it keeps the private key far away from the scammer.
What is in the Trezor T Box?
If you buy a Trezor T Model product then you will get a nice box. The Trezor hardware wallet includes a nice USB cable, a paper card that was put down in recovery seeds, and some nice strikers. You also get a neat gadget added with a magnetic dock and finally Trezor T.
It is one of the top physical products in the cryptocurrency world. For those who want to store their coin in safe storage and want to control the fund, Trezor is ideal for them. You should make sure to keep this device secure place so that you can get it easily and far from scammers. Trezor Hardware Wallet
Features and Design
The Trezor T hardware wallet boasts several noteworthy features. It features a sleek and compact design with an easy-to-use touchscreen interface, making it convenient for both beginners and experienced users. The device supports a wide range of cryptocurrencies, allowing users to securely manage various digital assets in one place. Additionally, Trezor T incorporates advanced security measures to protect against hacking attempts and unauthorized access. Trezor Hardware Wallet
Security Measures
Trezor T employs multiple security measures to safeguard your cryptocurrencies. It utilizes a secure element chip, which stores private keys securely and performs all cryptographic operations. The device also features a PIN code and passphrase protection, ensuring that even if the device is lost or stolen, your funds remain secure. Additionally, Trezor T supports multi-factor authentication and includes a built-in recovery process to restore your wallet in case of loss or damage.
Details About Trezor T Device
After opening your Trezor T box and you see a seal on its USB port. This seal helps you to understand whether it is used or intact. If you see the striker is completely intact on the port that means it is very new and unused. If it does not like that it means someone tempered your Trezor device.
This wallet is light and fits nicely in your pocket. I think this size makes you comfortable just like the above picture. In the wallet, you also see a slot with a MicroSD card in the future it will allow you to onboard encrypted storage.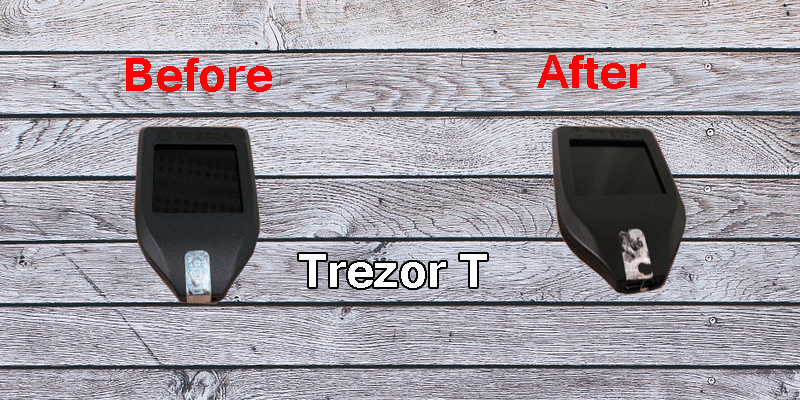 Note: It should remember that this card won't store your recovery seed and don't store your private key derived from it.
You can easily connect your device to any laptop/ desktop through the USB-C connection.
Supported Coin List Of Trezor Hardware Wallet
In the past Trezor support a few coins, but now a variety of coins is supported by this hardware wallet device. Trezor T supported many coins, falling short only of Ripple (XRP) and Stellar (XLM). Below is the supported cryptocurrency coin list.
Bitcoin (BTC)
Ethereum (ETH)
Bitcoin Cash (BCH)
Litecoin (LTC)
EOS Ethereum
Classic (ETC) Dash
There are more than 700 digital coins supported by the Trezor Hardware Wallet. Find the list here
How To Install Trezor T
The main Trezor – now it's called Trezor One installation process is similar. Simply follow the step to installation.
 Download the Trezor installation software bridge (it is a small piece of software that helps you to massage Trezore)
 Now you should install the firmware on your Trezor.
You have done it! It is parity simple and ready to use.
At this point, if you are thinking about a 12-word seed phrase, yes to use instant this step goes skipped.
You can put it down at any time. You will get a prompted notification to back up your key seed phrase.
It's a part of your device installation to back up your seed phrase. Keep your backup key phrase on any paper or secret place.
If you want to know about the 12-word seed you can see our other article and video.
The installation process is very simple and you do not need extra technical expertise to set up your Trezor T wallet.
T Model's Touchscreen Featured
It is pretty simple to use with Trezor One. Now the difference is the touchscreen in spite of two buttons. While the touchscreen is really prettier than the button. Though you will feel hard to use with a small touchscreen interacting.
Another main advantage is you do not need to interact with PC devices during certain processes. For example, setting your secret code or recovering your wallet.
This device compound keypads at a certain time that's why hacker can not find out keystrokes. Because a hacker will not be able to guess which number button you have pressed.
Recovery and Backup Options
Trezor T emphasizes the importance of wallet recovery and offers robust backup options. During the initial setup, users generate a recovery seed consisting of a series of words. This seed acts as a backup, enabling the restoration of the wallet in case of device loss or damage. Trezor T also supports Shamir Backup, a feature that allows users to split their recovery seed into multiple parts, increasing the security of their backup.
Price Analyses Trezor T
TREZOR's main competition is the Ledger Nano S. On the worth tag level, the Nano S costs $99 whereas the TREZOR T costs $170.
The main advantage the T model has over the Nano S is the touchscreen. however, once it involves coin support the Nano S supports Ripple and Stellar and Trezor Hardware Wallet doesn't provide support. Also, thus on store and move with Ether persevere your TREZOR you will have to be compelled to use MyEtherWallet since the native TREZOR interface doesn't support it.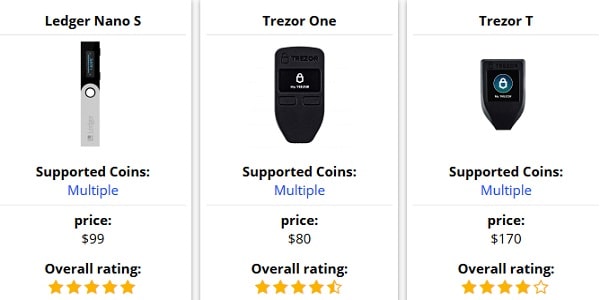 From a usability perspective, they are pretty similar tho' the Ledger Nano S might be a touch smaller (an advantage in my opinion) and includes a load of intuitive interface. Ledger recently launched their Ledger Live package which will do an exquisite job at managing the assorted coins to persevere your device. To add it up – I feel that there's no real justification to migrate from the Nano S to the T model. If you're on the fence about its model to buy for I think the Nano S wins by a nose. Trezor Hardware Wallet
Finally, I am going to write some points from my view. Trezor Hardware Wallet
I think the Trezor Hardware Wallet's price is pretty high but worth of buy.
Give your first choice as per Trezor Hardware Wallet for security reasons.