Converting Bitcoin to Bangladeshi taka is very challenging in our country. Because bitcoin has not yet been given legitimacy by the Bangladesh government. The article will tell you the top five trusted sites to convert Bitcoin to Taka.
It is very important to know how to cash out Bitcoin for the people in Bangladesh who are earning Bitcoin from various online sites. As Bitcoin is not approved in Bangladesh, it is also very important to find a trusted and secure site to convert it into TK.
Here, I am going to tell you the top 5 trusted sites in Bangladesh through which you can easily convert Bitcoin to Taka. So without further delay, let's start with the main topic.
Top 5 Trusted Sites To Convert Bitcoin To Bangladeshi Taka
You will find a lot of sites to convert Bitcoin to TK. But they all won't be trusted. Here, I am discussing the top 5 trusted sites among them. Let's explore them together.
1. BTC TO BDT
Our last but not the least pick is BTC TO BDT which is one of the fastest and most user-friendly online platforms to convert Bitcoin to Bangladeshi taka. In such a case, you have to buy or sell a minimum of 10 Bitcoin USD.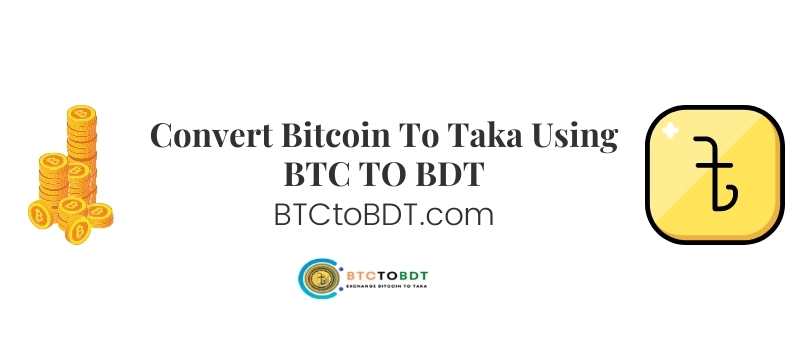 However, the online site provides superb customer care service by creating live chat from 10 am to 12 midnight with their customers. After finishing the service time, you can also contact them on their verified social media sites.
Convert Bitcoin To Taka Using BTC TO BDT
First, create an account on this site.
Verify your account through your email ID and mobile number.
After setting up your account, you will need to send your Bitcoin funds to your BTC TO BDT address by clicking the deposit button.
Then click on "sell the crypto".
Choose a trusted buyer.
Now, you will need to choose a payment method.
In the end, sell your bitcoins after getting your payment.
2. Paxful
Paxful is a simple, safe, and trusted way to sell, buy, exchange, manage, and store Bitcoin. It is the world's largest, leading peer-to-peer marketplace for trading cryptocurrency.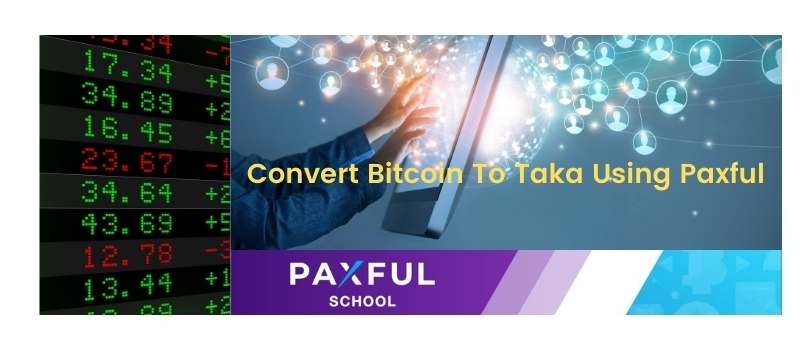 However, Paxful was first created by Ray Youssef and Artur Schaback in 2014. At present, over 3 million users have used the Paxful wallet to sell and buy Bitcoin through different payment methods.
Convert Bitcoin To Taka Using Paxful
Create an account with Paxful.

Send Bitcoin to your Paxful address.

Click on "Any Payment Method" and select your preferred payment method.

Next, click on "Any Currency" and choose your local currency.

From the location list, select your location.

Click on "Find Offers".

Select the buyers with the best reputation.

Then click on "Sell Now".

After that, click on the "I Understand the risk, proceed to sell" button and again click on "I Understand".

Now the trade page will appear. After getting your payment, click on "Release".
3. Kraken
Kraken is one of the most popular platforms of cryptocurrency exchange, where sellers and buyers can trade different cryptocurrencies. The site surely provides you with an easy and secure transaction of your bitcoins.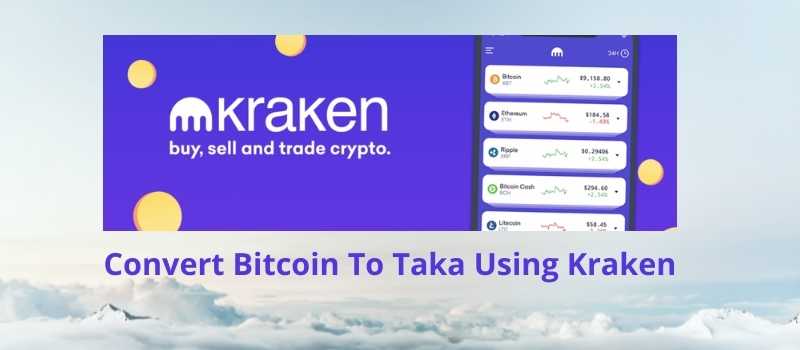 Payward Inc. first founded the well-known site in 2011. Now, it is available to residents of almost 176 countries, including Bangladesh, and allows users to use 72 cryptocurrencies for trade.
Convert Bitcoin To Taka Using Kraken
Create an account.

Verify your account.

Send Bitcoin to your Kraken profile.

Now open the New Order page and fill out their order form. At this time, select your local currency to get the payment.

Click on "Sell".

Enter your amount of bitcoin and click on "Confirm Sell".

You will get your payment within 20-30 minutes.
4. Coinbase 
Coinbase is a trusted, highly secure, and very fast online company that acts as a platform for managing digital currency. It was first established in 2012 by Brian Armstrong and Fred Ehrsam.
As the top-notch mainstream cryptocurrency exchange, their main motive is to help people while converting Bitcoin into local currency. However, it offers over 25 cryptocurrencies to trade.
Convert Bitcoin To Taka Using Coinbase
Open an account with Coinbase.

Send your Bitcoin funds to your Coinbase Bitcoin address.

Click on "Buy/Sell"

Now click on "Sell".

Choose your local currency.

Next, click on "See Limits" to know how much you can withdraw from the site.

Click on "Sell Bitcoin Instantly". Now, your wallet is full of your fiat currency.

In the end, click on "Withdraw" and you will receive your money.
5. LocalBitcoin
LocalBitcoin is the world's largest and most trusted platform of cryptocurrency exchange that allows its registered users to advertise, buy, and sell bitcoins. The media is often compared to Amazon or eBay and charges a 1% fee on a successful trade.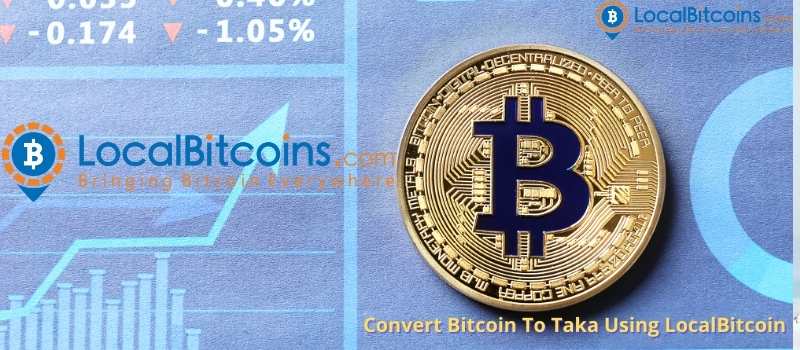 The well-known site was first established in June 2012 by Jeremias Kangas. It became so popular that it had around 1,10,000 active traders within one year and the transaction volume was 1,400 – 3,000 bitcoins per day.
Convert Bitcoin To Taka Using LocalBitcoin
First, register an account on the site.

Enter an email address, username, and strong password.

After logging in, click on "Sell Bitcoins".

Then choose a country. In this case, I will suggest you choose your own country for faster transactions.

Now, select the payment methods.

Enter the amount of bitcoin and confirm the details of your payment method.

After accepting your request, he/she will send you money.

When you get your money, click on "Payment received". Then the site will give your bitcoins to the buyer.
Bitcoin has become very popular as a cryptocurrency all over the globe, including in Bangladesh. Many new investors are joining this Bitcoin-based trade marketplace each day. But frauds are also all around. So, you have to be very careful while selecting a trusted site which is following all the government criteria and verifications.
Cashing out of Bitcoin can be very complicated if you can't choose the right one for you. Quickly select one based on your demands to convert Bitcoin to taka and share your experience with us. Thanks for staying with us.