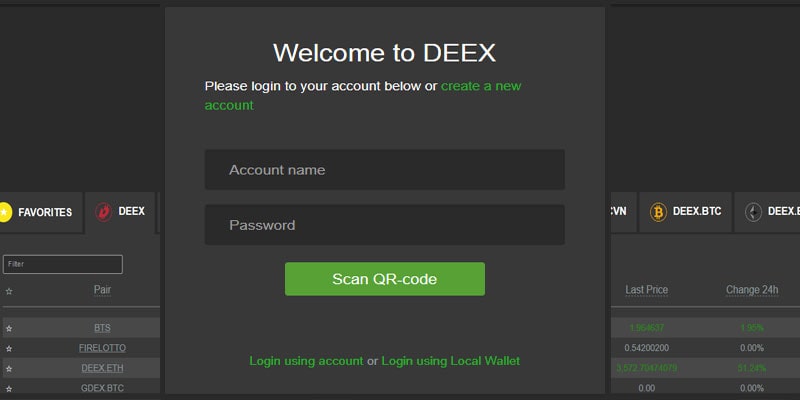 Deex is a popular, secure and decentralized cryptocurrency exchange. Crypto investor are now trusting and want to start trading with Deex exchange. In the cryptocurrency market Deex exchange brings with user full control and extra security level. So, before trading with Deex exchange, read our two article about Deex Exchange. In this section, you able to learn how to create appropriate Deex exchange account.
Open A Deex Exchange Account
Deex exchange is rapidly growing Dex trading convenient platform. Due to the wide growth of digital currency community there are so many exchange are available. A Deex is a decentralize cryptocurrency exchange. A common problem is security threat where Deex is one of the ideal trading platform. A nice user friendly interface give Deex exchange extra advantage.
So, to trade and make money on the Deex platform you need an account. If you are facing issues to open an account, then you might follow the step by step guide to create a Deex Exchange Account.
Step – 1
Go to Deex exchange website → https://www.deex.exchange/
Now click on the webpage top right sidebar → Register. There have three Deex wallet model option.

Deex Exchange Account

– Cloud model 
To create this account, you need a login and password. This is primary Deex account level with less functionality. The security level is very low and have the possibility to hack attack. Most vulnerable for spam in or hacking.
Deex Exchange Account –

Wallet model

It is second type of account and here you need login, password and a secret fill. It will help to access from another device to this backup file. If you have a backup file than it is easy to restore your wallet. Medium level of protection.
Deex Exchange Account – 2FA model 
To create an account at this level you need to login, password and QR-code are used. This category provides you the maximum level of security level protectionist. Moreover, if you loss password or code, still your fund are safe and hacker, not able to access on your account.
Step – 2
Now from three options, simply select one. Personally, I prefer → 2FA model. You can choose any of them as you prefer to create your account. So at this moment select on the → 2FA model and click → register button. Now you are shown on the platform to fill up option.
Step – 3

Give a user name or account name (pub) and a strong password.
On the account name fill option give two word name with – (hyphen ) otherwise it could difficult to create an account. For instant, mr-putin user name or you can use long character name. That's it, now you can happy trade with your deposit.

Note: Save your QR code on the safe place. You need every time to log in to your exchange wallet.
Deex Exchanges Inside Functionalists
Many advantages in the Deex exchange trading platform. After logging you see markets, wallet, exchange and referrals menu on the top left bar. Different menu has different action with different functionalists. Check all the tabs to understand the advantage of the functionalists.
Markets: Here you can see all the overview on the trading pairs. One place to see the favorite pair and also able to add custom tab. Here you can see last price, last 24 hour price change and a small price graph.
Wallet: To deposit and withdraw activities are completely through this page. You can tick to show only balance wallet and on the other hand, you can untick to show all the wallet empty balance.
Exchange: In this section probably more important for a trader. Buy and sell and open a new order place this option helps you. Moreover, my market and find market with different trading tool is available here.
Referrals: On the referral option you can earn lifetime commission income. To participate in the referral program you need to register in the DEEX ecosystem and vote for deex-witness.

Finally, I am interested to say Deex account open is not so hard. Oviously as a decentralize exchange it is one of the top decentralize exchange over the crypto space. Moreover, this platform is user friendly for the crypto trading beginner.